Shipping Information and Returns

All items are sent by normal mail .It can take between 10 to 14 days each order but as orders are done in rotation so you should allow up to 28 days for delivery. Since most of our items are custom orders and involve being handmade or engraved etc , then up to four weeks at least should be allowed for delivery. Orders can usually be shipped in less time but please be patient our products are worth the wait.
Import duties and/or taxes may be imposed by your local government on shipments from outside your country.These charges are separate from Blarney Village charges and are beyond our control. We also are in no position to predict the amount if any of such charges. All such charges are payable locally by yourselves.
Returns and Refunds
A refund can be issued if you notify us of cancellation of your order within five days of placing your order subject to a 20 % administration fee which will be deducted from the amount to be refunded.
Our products are of the highest quality and every effort is made to protect your shipments, but if you feel you have a reason for a refund you must first email

and receive a return number if their is a valid reason for a refund. Sorry but without a return number all incoming packages will be refused. If a refund is authorised you will receive a refund within 4 to 6 weeks.
The majority of our products are custom ordered, handmade or engraved to customers orders and as custom orders cannot be returned as these items are not stock items.
All our family crests are based on the most accurate family crests according to research from books and Irish history. Many companies supposedly sell family crests that are not necessarily accurate and you may have bought an inaccurate representation of your family crest in the past. If you want to have a particular family crest design engraved you must email the design to us in an acceptable format within five days of placing your order otherwise we will use the most recognised family crest based on your name as researched from Irish history books and other sources.
Check out our brand stunning new family crest tapestries.This is the gift you have been looking for click here please!
Give Someone A Gift Of Leprechaun Club Membership For St Patricks Day.There Is No Other St Patricks Day Gift More Unique !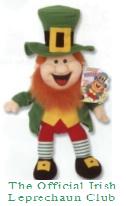 Click here if you would like to shop for coat of arms or family crest clocks, family crest t shirts, coat of arms prints or family crest mugs and coat of arms bags as well as much more!All of our coat of arms gifts are suitable for wedding gifts, christening gifts, birthday gifts, memorial gifts, retirement and graduation gifts.We also have stunning coat of arms tapestries.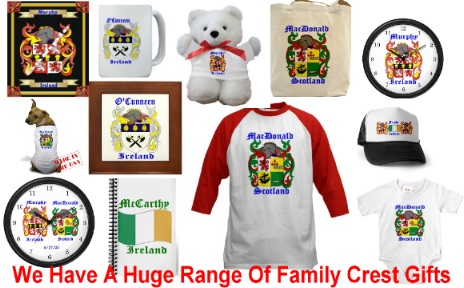 The Leprechaun Club™ ,The Official Leprechaun Club™ ,The Official Irish Leprechaun Club™ , The Irish Leprechaun Club™ ,The Leprechaun Club Of Ireland™, The Official Leprechaun Club Of Ireland™,Murphy The Irish Leprechaun™, The Blarney Village Collection™ and Blarney Village™ are all trade marks of Patrick Martin Hayes no unauthorized use allowed. All content is also subject to copyright restrictions.
(C) Martin Hayes 2003 all rights reserved.