LINKS PAGES INDEX
A to Z of Various Irish and Other Sites Please Click here
Here you find links to sites that may be of interest to you we even have details and links for people wanting to get married in Ireland click here.Everything from Irish humour sites to car hire,ferry companies,Irish holiday homes,Irish golf holidays,Irish cottage holidays as well as Irish farmhouse holidays,flights to Ireland,B&B's in Ireland or Bed and breakfast as they are better known.You will also find details on hotels in Ireland,budget holidays in Ireland,jobs in Ireland,property in Ireland or estate agents,fishing holidays in Ireland, Irish music sites, Irish rail (railway timetables etc) details of Irish embassy nearest to you,also cheap flights to Ireland.
Please click on the Links above to go to that section.
A to Z of Various Irish and Other Sites Please Click here
Whether you are coming to Ireland to visit just for a short weekend break or on a budget holiday or even if you are just looking for general Irish Information then there should be something in our links section to suit you.
Remember though to check out our main site if you are interested in family crests gifts,Irish crystal,bronze sculptures
If you would like to link to us you can use the banner below or a simple text link please email webmaster@blarneyvillage.com to let us know to link back to you.
Thank you

Give Someone A Gift Of Leprechaun Club Membership For St Patricks Day.There Is No Other St Patricks Day Gift More Unique !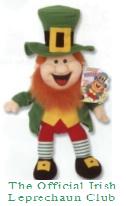 The Leprechaun Club™ ,The Official Leprechaun Club™ ,The Official Irish Leprechaun Club™ , The Irish Leprechaun Club™ ,The Leprechaun Club Of Ireland™, The Official Leprechaun Club Of Ireland™,Murphy The Irish Leprechaun™, The Blarney Village Collection™ and Blarney Village™ are all trade marks of Patrick Martin Hayes no unauthorized use allowed. All content is also subject to copyright restrictions.
(C) Martin Hayes 2003 all rights reserved.