All About Our Fairy Parties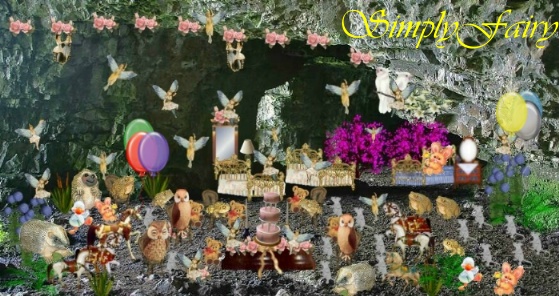 (All the creatures from the enchanted forest having a party along with the fairies)
Click on the picture if you would like to see the a bigger version of the picture.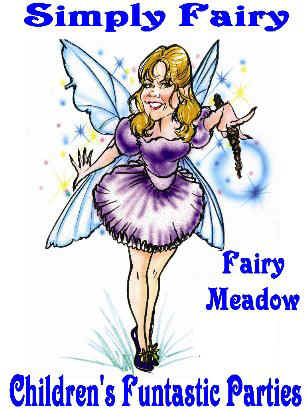 Enchanting Fairy Party
A sprinkling of glitter Fairy dust will add sparkle to your little girl's birthday.
Fairy Meadow will arrive with her treasured fairy chest full of all the things our new fairies will need for a wonderful day.
Together we will begin transforming the girls and others to look like beautiful fairies, (Fairy skirts and Fairy wings), or their wish may be granted as some wizard outfits 0r other character outfits are provided. Plus a touch of face paint too).
We shall then think of new Fairy names for everyone and with a sprinkle of glitter fairy dust we shall enter the magical fairy ring.where we shall chatter about all things fairy.
There will be time to enjoy the yummy Fairy Feast or Fairy Tea Party and taste all the Fairy treats.
Then its Fairy dancing and playing fairy games. and of course their favourite game of all, the Fairy Pass the Parcel. Which has been wrapped by the fairies with a fariy surprise for each child.
The children will be enchanted in the realm of this beautiful fairy world and when they return they shall each have a trinket or two to take home to remind them of this magical day.
The birthday princess shall be delighted to be the Fairy Princess of the day, enjoying lots of smiles and laughter with all her friends She will be given a beautiful fairy treasure as an her extra special keepsake to remember her Fairy birthday for all the years to come.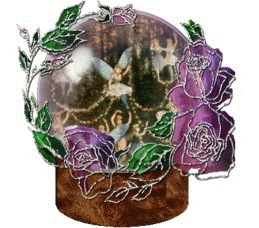 "Fairy wishes with Fairy Godmother Fairy Meadow"
Fairy Tale Princess Ball Party
This party is lots of fun, its like a mini pantomine in your home.
Enjoy the story of a pretty princess.
Who starts the day as a young girl who has to do all the household chores with all her friends.
Enjoy the giggling and laughter as we pretend to dust, wash and polish the room.
Then by magic there's an invitation to the ball.
Who will be able to go?
Who will have a party dress?
Watch as the children are transformed.
There will be time to enjoy the Princess Banquet with all the princess treats.
Then we enter the ballroom for a magical time, Our Birthday Princess of the day will love her ball with all her friends. With Fairy princess games and music and dancing which are lots of fun. Plus their favourite game of all the Fairy Pass the Parcel. The Birthday Princess of the day, will be given a beautiful fairy treasure as an her extra special keepsake. A simply delightful party for everyone to enjoy.


***Simply Fairy parties, usually last between approximately two and a half - three hours. The parties are suitable for children from 5 to 8 years old.
Groups of up to 10 to 15 including the birthday Princess are ideal and works really nice as every child has a chanceto take their turn at doing the various Fairy things .
Fairy wings and skirts as well as other props are provided for the party but remain the property of Simply Fairy. Fairy Meadow also provides an exciting Fairy Pass the Parcel for the children older than three, And a special Fairy gift for the birthday Fairy Princess.***
Please look at Frequently Asked Questions and Answers Page (FAQ) which has further details which is helpful to know.

Fairy Meadow Walk-About
Fairy Maedow loves to add sparkle to an event by meeting and chatting with children and parents. Often seeing familiar Fairy Friends (the children of Cork from birthday parties). With a quick hello and Fairy bubbles and some Fairy fun, this can add a little extra sparkle to an event.
Event Face Painting
Fairy Meadow also does wonderful and colourful facepainting for the children and this is a wonderful way to further enhance a party or even a festival or event. Fairy Meadow arrives dressed in her full fairy attire and her snazzaroo face paints ( the facepaints that most professionals use). With a selection of choices for the children, flowers, butterflies, snakes, puppy dogs and crowns as well as much more the children will delight in watching their faces almost magically transform into their favourite character. The Simply Fairy colourful facepainting delights all the children and adds that extra excitement to the big day and one that the children totally enjoy.

Fun Balloon Art
Fairy Meadow also does fun balloon modelling, with fairy wands, wizard sabers, flowers, butterflys, dogs, galaxy bubble blasters and a variety of crowns and hats these are a few of the fun balloons that can add a bit of colour and fun to an event.
Please contact Fairy Meadow for Walk-Abouts, Event Face Painting and Fun Balloon Art.

Simply Fairy™ Fairy Meadow™ and Wands and Wishes™ are trademarks of Christiana Hayes Mc Cool no unauthorised usage allowed.All images and text are also ?copyright of Christiana Hayes McCool ( 2004)
Keywords to help find me
Childrens entertainer,Cork Ireland,Fairy parties,Simply Fairy,Fairy Meadow,Patrties for little girls,face painting,balloons,dressup,Cork City,West Cork, Youghal,Princess party,enchanted forest,wise old owl,Leprechauns,fairy bells,handsome Prince,fairy bubbles,corporate events,girls birthday parties,fairy meadows,baloon art,facepainting,fairy costumes,fairy