Welcome to Photo Yarn™ and Heraldic Weavers™.
Turn any photo into a jaquard wovenn tapestry throw. Turn your memories into treasured heirlooms!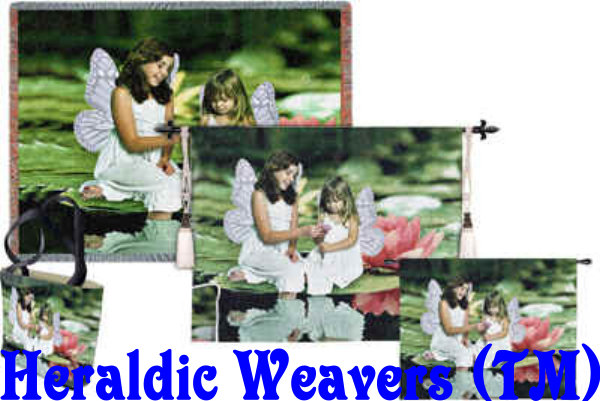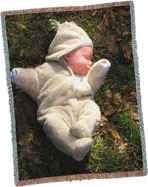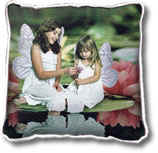 Step One
You go to our online store click here if you would like to go their now or use the buttons to the left.You choose the product you want for instance a single family crest on a tapestry throw or two crests on a tapestry throw( very popular as wedding or anniversary gifts) .Or you may want to have a tapestry throw made with a photograph on one side and a crest on the other or just have your favorite photograph woven into a throw. Once you have decided you move on to step two.
Step two
If you are purchasing a tapestry throw with a family crest or with two crests or a photograph and a crest then you can choose from the five different designs ranging from very ornate to simple.You should indicate the design you want when at the online checkout. If you are just getting a photograph woven on it's own then you skip this as photographs are woven without any design round them unless with a crest.Please see the instructions for photographs below. You can also of course order single embroidered crests and double family crests or coat of arms which we call wedding crests.**Please note if when we research your crest we find that the mantle of the crest, (which is the outside portion of a crest) is dark then the black frame won't be suitable. We want your tapestry to turn out absolutely stunning so in that instance we will email you your crest and ask you to choose one of the other four designs. All embroidered crests are embroidered on a black wool background.
Please also check out the other frequently asked questions section here
Step three
The coat of arms is then meticulously digitized piece by piece by us using state of the art software and powerful computer programs to transform your coat of arms into a format that our computerized looms can recognize.The tapestries are hand finished and everyone is a true work of art.Each tapestry throw is individually woven on a loom utilizing over eight miles of richly colored cotton yarn.The detail is truly amazing click below to get a larger view of some of the detail.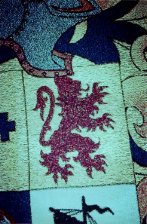 Our tapestries are 100% jacquard woven cotton and are not printed.Your tapestry throw will not fade even with repeated washing,we do suggest that you machine wash on gentle or hand wash and then tumble dry on low..You truly will have a new family heirloom to hand down from generation to generation. In approximately four weeks you will receive your beautiful new tapestry throw.At times you will receive your tapestry quicker but *at busier times you should allow at least six weeks for delivery.So please be aware of that if ordering one of our tapestries for a special occasion.
Step four (for people ordering a tapestry with a photo)
You will receive a receipt email from us which will give you the email address or physical address to send your photograph to. You can use any photo you like but the simple rule is the better the photograph is the better your tapestry will turn out.It must be less than 1.5 mb in size if being emailed.

Size :Any photo will work once it is at least 5x7 and also complies with the simple rules below.If taking a photo with a digital camera make sure it is at least a one megapixel camera as otherwise the image will not be of high enough quality to use.
Contrast : Your photo should have good contrast.A black dog on a black couch will not yield very good results and could end up being a bad tapestry.Equally so a white dog in snow will not work well either.If your main subject is brightly lit and the background is somewhat darker then the results should be excellent.Please avoid dark shadows on the face or subject.
Focus: Make sure your subject is sharp,the better the focus the better your finished piece will be.
Colour : We can do black and white but as above and below the same rules apply as regards brightness,focus etc
Composition : Keep it simple try to make sure your subject occupies 60 to 80% of the photo.It is not absolutely necessary but again it will make for a better photo to use.You can use a few faces or objects but the more you try to fit in the less likely the fact it will turn out a good tapestry.
Copyright : No copyright photos accepted unless you have the copyright owners written permission.
If you would like to shop now please click here.
Please also check out the other frequently asked questions section here

For our coats of arms embroideries and tapestries please click here for FAQ'S
Features

All our tapestry throw blankets are woven from over 8 miles of rich 100% cotton yarn

Each tapestry is custom designed from your photograph.

Extremly generous size each tapestry is a huge 54"x70" thats over 4foot by almost six feet aprox.

All tapestry throws work best with 8x10 type photographs and can be either landscape or potrait orientation.

All our Tapestries are washable.
Our large wallhangings are aproximatly 53"x40inches" and can be spot cleaned. Because of the different weave they are capable of acheiving even more fine detail similar to an embroidery. Again both landscape or potrait orientation 8x10 photos are best.

Our small wall hangings are 23"x36" and again can acheive a high level of detail due to the way they are weaved. Again 8x10 photo types are best and they can be lanscape or potrait. 8x10 preferrable.

Our pillows are 17"x 17" square type photos preferred

Our tote bags are also 17"x17" again square type photos preffered.

All Photo Yarn™ and Heraldic Weavers™ orders are despatched from the United States

Once we receive your order you will be either able to email us your photo or simply mail it to us. In the case of family crests and embroideries we will email you a proof for your approval.

Once we receive your order you usually will receive your finished item in aprox 4 to 5 weeks.
Dealers wanted email us for details.
FOR COAT OF ARMS PRINTS CLICK HERE SALE NOW ON!!!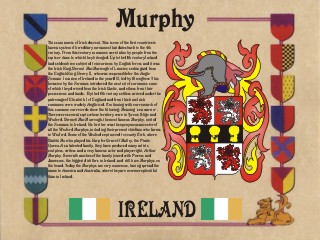 FOR COAT OF ARMS PRINTS CLICK HERE SALE NOW ON!!!