Frequently Asked Questions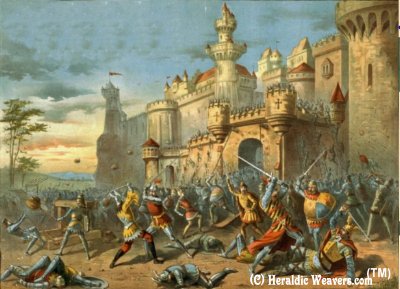 Soldiers in battle.

How Did coats of arms start?
Soldiers in medieval times especially knights had to be able to recognize each other so they painted emblems on their armor our shields to identify themselves to other soldiers in the heat of battle.Knights were sometimes so successful that their lord or their king would grant them exclusive symbols to paint on their shield and their shield only,this was the beginning of coats of arms as we know them today.After a while even simple peasants were granted their own family coat of arms or designed one themselves.All the symbols on a coat of arms mean something,it can show whether they were soldiers or sailors,fishermen,farmers.Eventually almost every name that came out of Europe had some sort of family crest.Sons and sometimes daughters added their own symbols onto a coat of arms or in fact in a lot of instances changed it.
How do I know you have my families genuine coat of arms?And is their more than one?
Yes we have crests for almost 90% of family names,we have over 1,000,000 names in our databases.Firstly though we have to clarify a point and explain some background behind coats of arms.A coat of arms was granted to an individual and not to a family as commonly misconceived.Coats of arms varied from county to county as well as from country to country.Some people made up their own coat of arms and several people with the same surname were either granted or assumed coats of arms that they liked.A son or even daughter quite often added their own symbols to a coat of arms and families over the years changed or even abandoned them completely.When families came to America or Australia they sometimes abandoned their crest or changed the spelling of their names or took on a completely generic family crest as many people did.This in fact makes almost all coats of arms generic.
Our researchers use the latest in genealogical software and many books from the 17 and 18 hundreds to research the first known crests for your surname or family. Added to that if we find two very early versions of your crest we will email you and give you a choice of which one you prefer.This doesn't happen a lot as usually a lot of people adopted the crest the same as the person with their name who was granted it.Most of the common names have very well recorded crests for their family name and are easy to research.Please also note that several different names all have the same crest quite often as said before because it was common to adapt a crest or in fact for a king or nobleman to grant the same crest to several individuals.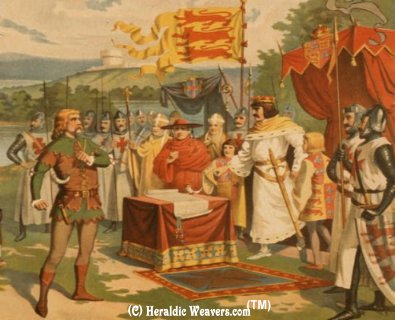 A commoner being granted his coat of arms by a king.

Are these products (tapestries) printed? And will the colors fade?
Our tapestries are 100% jacquard woven cotton and are not printed.Your tapestry throw will not fade even with repeated washing, so you truly will have a new family heirloom to hand down from generation to generation.Each tapestry throw or embroidery is individually woven on a loom utilizing over eight miles of richly colored cotton yarn.The detail we can achieve with our woven family crests or woven photographs will astound you.
Your tapestry throw will not fade even with repeated washing,we do suggest that you machine wash on gentle or hand wash and then tumble dry on low. We recommend cold water and tumble drying on the lowest setting. Due to the nature of the backing and lining of our wallhangings, bags and pillows, we recommend spot cleaning only.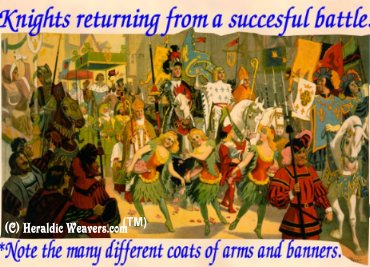 What photographs can I use for my Tapestry?
Please check out the do's and don'ts of your photos by going to the process page where you can get full instructions on that.You may click here or use the link on the left hand side of the page to go there.
How long does it take?
As I a sure you have already gathered a lot of work goes into making these.Usually you will have your tapestry throw within 4 to 6 weeks,sometimes sooner if it is quite.Please make sure that if you are purchasing one of our products for a special occasion that you order it 6 weeks before.
If you would like to contact us please email us at

You will have to enter the email address manually as this is necessary for us to prevent spam.
Features

All our tapestry throw blankets are woven from over 8 miles of rich 100% cotton yarn

Each tapestry is custom designed from your photograph.

Extremly generous size each tapestry is a huge 54"x70" thats over 4foot by almost six feet aprox.

All tapestry throws work best with 8x10 type photographs and can be either landscape or potrait orientation.

All our Tapestries are washable.
Our large wallhangings are aproximatly 53"x40inches" and can be spot cleaned. Because of the different weave they are capable of acheiving even more fine detail similar to an embroidery. Again both landscape or potrait orientation 8x10 photos are best.

Our small wall hangings are 23"x36" and again can acheive a high level of detail due to the way they are weaved. Again 8x10 photo types are best and they can be lanscape or potrait. 8x10 preferrable.

Our pillows are 17"x 17" square type photos preferred

Our tote bags are also 17"x17" again square type photos preffered.

All Photo Yarn™ and Heraldic Weavers™ orders are despatched from the United States

Once we receive your order you will be either able to email us your photo or simply mail it to us. In the case of family crests and embroideries we will email you a proof for your approval.

Once we receive your order you usually will receive your finished item in aprox 4 to 5 weeks.
Dealers wanted email us for details.
FOR COAT OF ARMS PRINTS CLICK HERE SALE NOW ON!!!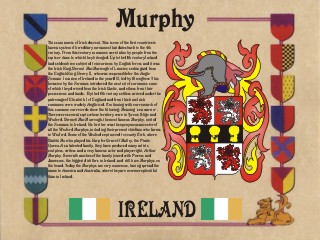 FOR COAT OF ARMS PRINTS CLICK HERE SALE NOW ON!!!